Google Places SEO and Optimisation
With Google Places your ultimate goal is get your site listed in the top few positions to generate the most leads for your business. So how do you get your website into the coveted A, B and C positions, or any of the 7 positions available for that matter?
There are a number of general SEO and Optimisation guidelines for you to follow and here are the main ones:
Proximity
It's imperative that your business address is close to the point of the search being carried out by someone on Google. So if your business is located on the outskirts of a major city e.g. London then it'll be more difficult for you to rank high in Google Places if someone is searching for 'accountants in London' and you are based in Richmond for example. However, if someone is searching for 'accountants in richmond' then this is where you can really optimise your Google Places ranking for maximum effect.
Note: You should always use your proper registered business address for your Google Places entry. Never be tempted to 'modify' the address in order to fool the system in getting you a ranking for a more searched for keyword.
Completeness
When you first setup your Google Places listing you need to provide as much information as possible. Don't be tempted to leave out any sections as every little bit counts and missing information could potentially have an adverse affect on your ranking in the Google Places search engine.
Top Tip 1: You need to ensure that your business is included in the correct Category. And if it can be included in a number of different categories then make sure to include those too. For example if you run a Pizza shop then also include that in the 'Restaurants' Category.
Top Tip 2: Under no circumstances should you place a location modifier in your Business Name. For example if your business name is 'Bernies Pizza Shop' then do not be tempted to enter your business name as 'Bernies Pizza Shop in Reading, Berkshire'. Google will eventually penalise you for doing this so please don't be tempted. You can put the location modifier in your business description.
Top Tip 3: Also make sure that you include the search category and city/town name in the business description. Although try and do this without making it look too spammy. There is no point trying to 'keyword stuff' the description so be careful.
Top Tip 4:  Include Photos and Videos in your listing if possible. The presence of photos and videos may not in itself help with a ranking increase but you are likely to end up with a higher click through rate on your listing i.e. social engagement, if they are present and this additional click through seen by Google will help with ranking better.
Citations
These are entries on other websites which include your Company Name, Address and telephone number. And some websites will even let you include your website address. The amount of Citations you get and the quality(Authority) of the websites where your Citation is placed will have a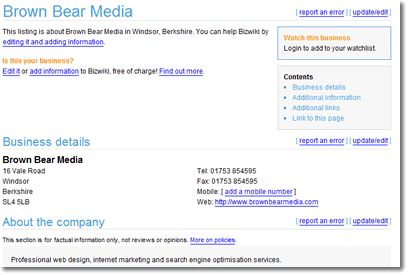 big impact on your rankings.
It's imperative that you also get Citations on websites specific to your country and that all the details used are the same as that shown on your Google Places listing.
Here's a useful list to get you started if you have a UK business:
Qype, FreeIndex, WeLoveLocal, Yelp, Hotfrog, Qype, Local Data Search, Thomson Local, Yelp, UpMyStreet, Trusted Places, Bview, Tipped, We Love Local, Brown Book, Infoserve, Yell.com, TouchLocal, Scoot, Ufindus, SmileLocal
Bear in mind that a large percentage of the sites above will allow you to submit your details for free, they also have paid versions too which enable your business to get more exposure on their website which in turn can lead to more leads for your business. So you'll need to do additional research on any of the paid options to really see if it's worth your while.
Note: If you'd like to increase the number of Citations for your website then please make sure and check out our Citation Service here.
Reviews
This one seems pretty straightforward in that the more reviews you have for your business then the more likely you are to move up the rankings. Although this is not as obvious as it first appears. As the reviews can be 'faked' the affect of the number of reviews you get now has a lower weight in the Google algorithm.
But the presence of reviews for your business compared to other Google Places entries that do not have reviews is where it matters. Once you get 5 Reviews a 'star' is placed by your listing and people are more inclined to click on your listing as a result. It's this click through which appears to help your ranking. Once again, it's likely that Google sees this as 'social engagement' and it results in greater ranking for your site.
Google Places Update
Over the last few months Google has been playing around with the algorithm for Google Places. And how they are displaying the Google Places listing has changed as a result.
They are now showing the standard '7-pack' and what's known as 'Blended' results for certain search queries. I can't offer any concrete evidence as to why they are showing different types of results for different keywords but an educated guess, and some initial searches shows that the Blended results are primarily showing up for very competitive searches in large cities and towns.
So how can you tell if the listings are 'Blended'? When this was first noticed it was clear as the Places listings on the results page show a mixture of a single line entry, along with some entries that show Title Tags from the website listed. However, over time it became increasingly more difficult as Google also started to show listings that looked very much like the standard '7-pack'.
But there is one clear way to identify Blended results and that is the omission of the link that appears above a normal Places listing. Normally there is a link above the Places listing that says something like 'Places for <keyword> near <town/city name>'. If this is missing then you have 'Blended' results and these are based primarily on organic ranking variables.
Here's a screenshot of a 'Blended' search result.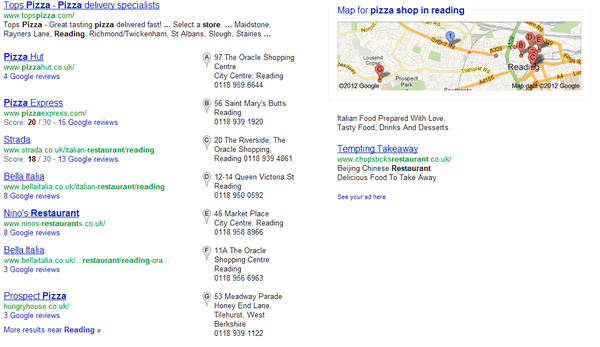 Here is a screenshot of a typical '7-pack' listing, and I have highlighted in the red box the text that appears on this type of listing that does not appear on a 'Blended' listing.
Note: The keyword used for this search was not very competitive and as such only shows 3 sites in the listing.