What is a Google Citation and How Does it Help you Rank Higher?
If you are looking for a Google Citation service which takes care of all your Citation submissions then please be assured you have come to the right place. Finding the most relevant websites on which to put your Citations can be a real pain in the a$$, and it can take up so much of your time.
Let us do all the hard work for you and get all the Citations you need to help rank your site(s) in Google Places. Just choose the Citation Package you need from the options below.
Price
Citations
Descriptions
Keywords
Drip-feed Period
Listing Updates
A Detailed Look at Google Citations
When it comes to ranking your website in the main search engine results you need backlinks and depending on your niche you may needs lots of them. These links consist of 'anchor text' which give Google an idea what your site is about but also enables other websmasters to provide a way for their visitors to click over to your website.
Here are a few examples of Anchor text:
Click here for link building services
So the Anchor text can be anything you want it to be, but essentially it is a 'clickable' link to your website.
Citations are somewhat different than 'anchor text' links in that they do not have any 'anchor text' as part of the reference to your site. Citations are entries in online directories & misc websites that contain details of your Business Address and telephone number. And Google uses these Citations to work out which site(s) it should rank on the first page when people are doing a 'local' Google search.
For example let's say you are looking for 'accountants in reading'. If you do a search in Google using 'accountant in reading'  you will see a 'block' of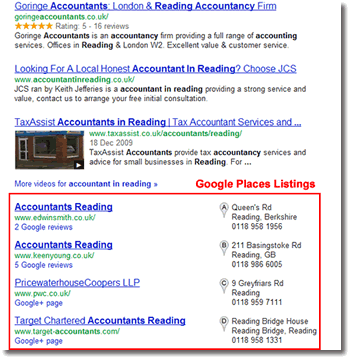 7 listings, on the Google results page showing the full address, and phone number, of the business, along with a map showing each of the business locations. These are all Google Places results and it's imperative that you get a number of Citations to rank in this area of the search results.
On the left is a screenshot of the Google results page after searching for 'accountants in reading'. The area highlighted in Red shows the Google Places listings and along with each entry you can see a link to Google Maps, as denoted by the letter A-G beside each entry.
So in order to get your website listed in this area of the search results you have to get your site listed on numerous websites. The entries on these websites are called Citations and there are 1,000's of sites where you place a Citation.
The following are a small number of sites where you can place a Citation:
Yell.com, Thomsonlocal.com, Hotfrog.co.uk, List.co.uk, Bizwiki.co.uk, Yelp.co.uk, FreeIndex.co.uk, UKCities.co.uk, Qype.co.uk
And here is an example Citation as found on www.BizWiki.co.uk: